| | | |
| --- | --- | --- |
| Episode No. |   | Season |
| 62 | 4x09 | Four |
Episode Information
Original Broadcast Date
November 20, 1991
Network:
IMDB:
A Single Drop of Rain
Leap Information
Chronological Information
A Single Drop of Rain was the ninth episode in Season 4 of Quantum Leap, also the 62nd overall series episode. Written by Richard C. Okie as a teleplay from a story co-written by series creator Donald P. Bellisario, Okie, and Ralph Meyering, Jr., the episode, directed by Virgil W. Vogel, first aired on NBC-TV on November 20, 1991.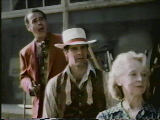 Storyline
Edit
In this episode, Sam leaps into Doctor William "Billy" Beaumont, returning to his hometown, where everyone suffers from drought. Everyone expects him to make rain, but really Sam is there to keep William's brother and his wife together.
The Plot
Edit
September 7, 1953: Sam leaps and finds himelf inside a car, riding towards a gas station. As soon as he arrives, he is greeted happily by the keeper of that station. A young, black man, who was in the same car with him, comes beside him when he tells that everybody has been waiting eagerly for him. As Sam asks why, they laugh and tell him that because he is there to bring rain, of course! Sam says the classical, Oh Boy.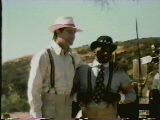 Sam arrives in the village and everyone cheers and greets him happily. He also meets his
Leapees
mother and brother, and brother's wife. Sam thinks that he can't make rain and is about to tell that to the people when suddenly
Clinton
, his apprentice, starts to speak loudly and cheerfully, how they will bring rain to the village.
Ziggy says that it would not rain in Clover Bend for eight months, one week, four days, two hours, and forty-four minutes.
The plot mirrors a play entitled The Rainmaker from the 1950's and set in Depression-era Oklahoma. The 1992 Steve Martin film Leap of Faith also has a similar plot (though Faith was released a year after this episode aired).
Characters appearing in this episode
Edit