Snapshot pictore of leapee Butchie Rickett, played by Frank Borin.
Personal Information
Gender:
Male
Character
description:
Sam, who leaps into her son, tries to persuade his mother into going back to college, which his father husband is strictly against
Contstantly gets picked on by his older sister
Along with his dad, rescues mother from falling from a cliff on their Wyoming vacation trip
Related to:
Hank Rickett (father)
Emma Rickett (mother)
Alexandra Rickett (sister)
Character information
Appeared on:
Quantum Leap (TV series)
Episodes appeared in:
"Runaway"
Character played by:
Frank Borin as leapee
Butch "Butchie" Rickett appears in the Season 3 episode Quantum Leap titled "Runaway". The part of Butchie the leapee is played in the episode by Frank Borin.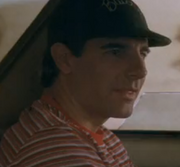 Butchie, who is on an across-country trip from their home state Florida to the Wyoming mountains, with his controlling father Hank (Sherman Howard), desperate mother Emma (Sandy Faison), and bullying older sister Alexandra (Ami Foster). He is told that the mother is going to disappear and he and Al assumes that she will run off with a one Billy McCann (Joseph Hacker), a man that she and Hank both knew in high school that she winds up reuniting with on the trip. This will ultimately destroy the family and cause Butchie to not graduate high school and his sister to get pregnant at sixteen.
It's Sam's mission, as he leaps into the 13-year old, who constately gets picked on by his 15-year-old sister Alexandra (Ami Foster), to keep mom Emma, who's been developing her own ideas of what she should be doing with her life, as she's been dissatisfied with just being a housewife and mother, to keep her from leaving dad Hank and the family, as, in the original events before Sam's leap into the boy, Emma had run off into the forest after another argument with Hank about she and Billy getting a little too chummy, and her desire to go back to school, never to be heard from again.
When Sam discovers that she did not run out on the family when Al comes across records of her body being found at the bottom of the cliff in 1993, They set out to rescue her, along with Hank, and Billy, Alexandra, Beth McCann (amber Susa), Billy's teenaged daughter, as they are able to so, as it proves to keep the family together, as Sam then leaps into his next mission, not before he takes revenge on big sister Alexandra, as he dangles her from her feet, and gets her to say "uncle", with her promising not to torture him ever again!