Sam as Union Army Lt. John Beckett (right) with Olivia Covington, his great-grandmother (Kate McNeil, center) and her servant/slave Issac (Michael Roberts, left).
Personal Information
Title:
Capt. Jonathan Beckett, US Army
Gender:
Male
Born:
c.1835, in Auburn, New York, U.S.
Occupation/
Career:
Union Army officer during American Civil War
Character
description:
Dr. Sam Beckett's great grandfather who must woo Olivia Barrett Covington, a twice-widowed Southern war bride and Northern sympathizer and

helped escaped slaves reach the Union lines near link to The Underground Railroad

Spouse(s):
Olivia Covington-Beckett (wife)
Related to:
Thelma Louise Beckett (granddaughter in-law)
John Samuel Beckett (grandson)
Tom Beckett (great-grandson)
Katie Beckett (great-granddaughter)
Samuel Beckett (great-grandson)
Sammy Jo Fuller (great great-granddaughter)
Character information
Appeared on:
Quantum Leap in episode "The Leap Between the States"
Character played by:
Scott Bakula as Sam as John
bit actor Rob Hyland in cameo as John the leapee as Sam looks into a mirror
Captain John Beckett (played in cameo look-in-the mirror appearance by bit actor Rob Hyland), of the Union Army. In the Season 5 episode "The Leap Between The States", Dr. Samuel Beckett, as his ancestor, Capt. Beckett, while helping the underground railroad smuggle a family to freedom in 1862 Virginia, must also win the heart of who turns out to be his future great-grandmother Olivia Barrett Covington (played by Kate McNeil), or he may be erased from existence.
About Sam's leap into John
Sam leaps into John, his great grandfather, in order to help keep the relationship between John and Olivia, at age 24, who's an already-once widowed war bride and native Virginian who tacitly sympathizes with the cause of escaped slaves who are trying to venture north via The Underground Railroad. Sam, as John, his grandfather, must try to help kindle, then keep alive, the relationship which develops between John and Olivia, who, in the original storyline, was to fall in love with John and move North, marry, with Olivia eventually becoming Sam's great grandmother.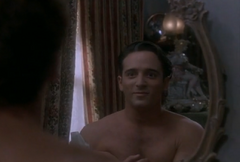 More Trivia
The episode 'The Leap Between the States' was one of only two episodes of the show where the perpetual time-traveler Sam Beckett (Scott Bakula) leaped out of his lifetime, this time jumping into the American Civil War in 1862. Here he assumes the identity of John, his great-grandfather and must woo his great grandmother Olivia, deal with the slavery issue, protect the Covington servant/slave Issac King (played by Michael D. Roberts, and who in the storyline is the great grandfather of civil rights leader Martin Luther King, Jr.) and fend off an evil Confederate officer, Lt. Montgomery (Geoffrey Lower) who attempts to force himself on Olivia, against her wishes.