Susan Griffiths as big screen film legend Marilyn Monroe in "Goodbye, Norma Jean" in Season 5 (ep.#18).
Personal Information
Gender:
Female
Born:
June 1, 1926
Died
August 5, 1962
(aged 36)
Occupation/
Career:
Actress
Character information
Appeared on:
Quantum Leap (TV series)
Episodes appeared in:
"Goodbye Norma Jean" (Season 5)
Character played by:
Susan Griffiths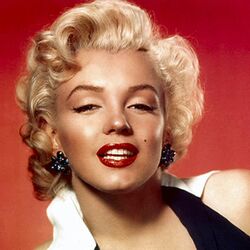 Norma Jeane Baker, better known as now legendary Hollywood film actress and sex symbol Marilyn Monroe (June 1, 1926 – August 5, 1962), is portrayed by actress/celebrity impersonator Susan Griffiths in the Season 5 episode of Quantum Leap titled Goodbye Norma Jean". Many of her screen performances have become iconic, and her dumb blonde persona became synonimus with the actress. Her films ranged from dramatic turns in Bus Stop to comical in Some Like It Hot, in which she co-starred with Tony Curtis and Jack Lemmon. She has often been cited as a pop and cultural icon as well as an eminent American sex symbol. She graced the first issue of Playboy magazine, sang "Happy Birthday to You" to President John F. Kennedy and her death continues to be shroud in mystery.
Quantum leap portrayal/appearance
[
]
In the "Goodbye, Norma Jean" episode in Season 5, Sam leaps into Dennis Boardman, chauffeur to legendary actress Marilyn Monroe, in 1960 Hollywood (leapee played by Stephen Bowers) to try to prevent what tragically happened in 1962, two years later (whether by accident, or by murder or suicide) : prevent her from intentionally committing suicide by a drug overdose, this time, on sleeping pills, as he, in coming to care deeply for the lonely and despairing star, becomes determined to try to put right, which, at least, he's able to accomplish, in, if not anything else, keeping her alive for her next film project, and to put off what did eventually happened in 1962.
References
[
]
External links
[
]