Leapee Phillip Dumont (played by Kent Phillips) in mirror image in the "Sea Bride" episode in Season 2.
Personal Information
Gender:
Male
Character
description:
attempts to reconcile with ex-wife as she prepares to marry her fiancee Vincent Loggia
Spouse(s):
Catherine Farrington (ex-wife, annulled, re-married in events after leap)
Character information
Appeared on:
Quantum Leap
Episodes appeared in:
"Sea Bride" (Season 2)
Character played by:
Kent Phillips as leapee/cameo mirror image
Scott Bakula (as Dr. Samuel Beckett in leap into him)
Phillip Dumont is a character who appears in the Season 2 episode of Quantum Leap titled "Sea Bride". The part of Phillip the leapee is played in the episode in a brief mirror image appearance by Kent Phillips.
About Phillp
[
]
In the episode "Sea Bride", Sam leaps into Phillip, who's the ex-husband of a one Catherine Farrington (Beverly Leech), who appears on Weathers's yacht with the plans to wed a one Vincet Loggia (James Harper), who has questionable criminal ties, as he seeks to prevent her from marrying him; Weathers, who did not approve of the Catherine's marriage to leapee Phillip, only approves of her impending wedding to Vinny because Vinny has offered to buy his failing shipping firm. Al tells Sam that in the original sequence of events, that Phillip had committed suicide after failing to stop the wedding, in what was really a mysterious death in that he supposed jumped off ship—or didn't he??? In a tragic postscria broken-hearted Catherine had originally died two years later. Catherine tells Sam that if he still loves her, he should jump off the ship and swim back to New York.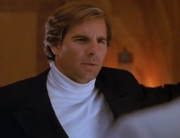 As daughter Catherine hides from him in the closet of his cabin room, Weathers angrily tells Sam, as Phillip, that he shouldn't have shown up to Catherine's wedding after refusing to take a job with the Farrington family cruise business and leaving Catherine three years earlier. He warns Sam to stay away from his family, and punches him to emphasize the point.
Later, at Catherine's wedding, as Captain Sheffield (Kurt Knudsen), the ship's Captain is about to pronounce Vincent and Catherine as man and wife, Al desperately calls out for Sam. Suddenly, Catherine cuts off the captain's words, and tells Vincent that she doesn't love him, and she can't marry him. Sam arrives moments later, covered in garbage, and tells the captain to have Vincent arrested for attempted murder. Sam and Vincent get into a fight, and Sam knocks Vincent out cold with one punch.
Al tells Sam that Catherine and Phillip are going to have six children, and Jennifer will write a bestselling book about Phillip's seafaring adventures, which will make enough money to keep the family stable until the cruise business recovers.