Jurassic World: Dominion Dominates Fandom Wikis - The Loop
Play Sound
Quantum Leap: Season 4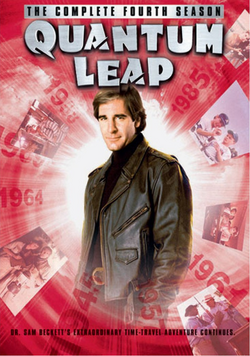 Quantum Leap Season 4 DVD cover
Quantum Leap: Season 4

[

]
This page lists all of the episodes which were aired in Season 4 of the NBC-TV series Quantum Leap. A total of twenty-two were aired from the series opeining episode "The Leap Back", which premiered on September 18, 1991, to the season finale episode, "A Leap For Lisa" which aired on May 20, 1992.
Season 4 (1991-1992)
[
]
Season 4 episodes
Image
# in Series
# in Season
Title
Written by
Directed by
Leap location/date
Original air date
Prod.code
54
1
"The Leap Back"
Donald P. Bellisario
Michael Zinberg
Crown Point, Indiana
June 15, 1945
September 18, 1991
67303 (4x01)
Sam and Al switch roles after a lightning strike. This allows Sam to return home to his wife, but when Al leaps into Captain Tom Jarrett (played by Dean Denton), he is set to be killed by his lover's jealous ex-fiancé, Sam must act as his hologram in order to save Al and continue to leap through time.
55
2
"Play Ball"
Tommy Thompson
Joe Napolitano
Galveston, Texas
August 6, 1961
September 25, 1991
67305 (4x02)
Sam is a washed-out baseball player named Lester "Doc" Fuller (played by Owen Rutledge) who has to help a younger and angrier player get into the major leagues, the player reminding him of Al when they first met. Neal McDonough also guest stars.
55
2
"Hurricane"
Chris Ruppenthal
Michael Watkins
Jackson Point, MS
August 17, 1969
September 25, 1991
67306 (4x03)
Sam leaps into Archie Necaise, a small-town sheriff in the middle of Hurricane Camille. He must keep his host's girlfriend from being killed in the storm... or by anyone else.
57
4
"Justice"
Chris Ruppenthal
Michael Watkins
Alabama
May 11, 1965
October 3, 1991
67309 (4x04)
Sam leaps into a man named

Clyde

(played by

Glenn Edden

) just as he is about to join the Ku Klux Klan, out of respect for the racist family he has married into. Sam must prevent black civil rights leader

Nathaniel Simpson

, a pastor of a local Baptist church, from being lynched by the Ku Klux Klan while trying to explain to his host's son the evils of racism, but due to Sam's upbringing, it becomes very difficult to act like the person he has leaped into to avoid his own lynching.

Michael Beach

and

Glenn Morshower

also guest star.
58
5
"Permanent Wave"'
Beverly Bridges
Scott Bakula
Beverly Hills, California
June 2, 1983
October 16, 1991
67302 (4x05)
Sam is

Frank Bianca

(leapee played by

Robert Jacobs

), a male hair stylist living with his girlfriend, a single mother

Lela Ivey

. When her child witnesses a murder of a mall drugstore clerk just as Sam leaps in, the boy's mother won't let him tell the police what he saw, and the killer is getting closer and closer to make sure that he never will.

Joseph Gordon-Levitt

also guest stars.
59
6
"Raped"
Beverly Bridges
Michael Zinberg
Mill Valley, California
June 20, 1980
October 30, 1991
67312 (4x06)
Sam leaps into Katie McBain (played by Cheryl Pollak), a woman who has just been raped by the town's All-American boy. He must make sure that justice is done, resulting in the woman herself being brought into the Imaging Chamber to testify at her trial.

Note: Unlike most episodes, the cast member who plays the "leapee" (Cheryl Pollak) is spotlighted in the opening credits.

60
7
"The Wrong Stuff"
Paul Brown
Joe Napolitano
Cape Canaveral, Florida
January 24, 1961
November 6, 1991
67308 (4x07)
In a very bizarre out-of-the-human host, Sam leaps into Bobo, an astro-chimp whom he must get into the space program – or he'll disappear forever due to unethical helmet testing methods.

Note: This is the only episode where Sam does not leap into a human being.

61
8
"Dreams"
Deborah Pratt
Anita W. Addison
Malibu, California
February 28, 1979
November 13, 1991
67320 (4x08)
Sam leaps into a cop named

Jack Stone

(played by

David Garrison

) just as he finds a man accused of murdering his wife, before killing himself and emotionally crippling their children. He must uncover a childhood trauma of the man he leaped into (which has unfortunately remained in Sam's head after the Leap) and catch a murderer before his host becomes the next victim.
62
9
"A Single Drop of Rain"
Story by: Donald Bellisario, Ralph Meyering, Jr. & Richard C. Okie
Teleplay by: Richard C. Okie


Virgil W. Vogel

Clover Bend, Texas
September 7, 1953
November 20, 1991
67317 (4x09)
Sam is William "Billy" Beaumont (played by Ted Baader), a traveling rainmaker returning home to a farming community suffering from a drought, who has to make it rain while preventing his host's brother's wife from running away with him.
63
10
"Unchained"
Paris Qualles
Michael Watkins
Talawaga County, Alabama
November 2, 1956
November 27, 1991
67314 (4x10)
Sam is Chance Cole (played by Mark Kemble), an escaped convict who is chained to a wrongly accused black man named Jasper who escape together only to be recaptured again. Sam must find a way to prove Jasper's innocence to the corrupt warden as the string of robberies continue.
64
11
"The Play's The Thing"
Beverly Bridges
Eric Laneuville
New York City, NY
September 9, 1969
January 8, 1992
67301 (4x11)
Sam leaps into a man named

Joseph "Joe" Thurlow

(played by

Will Schaub

) who's dating a much, much older woman and must convince her not to move back to Cleveland with her straight-arrow son and his wife. And somehow he also has to get through a nude version of Hamlet.

Robert Pine

,

Daniel Roebuck

, and

Anna Gunn

also guest star.
65
12
"Running For Honor"
Bobby Duncan
Bob Hulme
Near Lakeside, Macomb County, Michigan
June 11, 1964
January 15, 1992
67319 (4x12)
Sam leaps into Thomas "Tommy" York (played by Beau Windham), an honor-roll cadet at the Naval Academy who might be gay. His roommate was kicked out of the Naval Academy for being gay and Sam must stop his former roommate from being killed by a bigoted gang of midshipmen.
66
13
"Temptation Eyes
Paul Brown
Christopher Hibler
San Francisco, CA
February 1, 1985
January 22, 1992
67322 (4x13)
As a rash of serial murders take place in San Francisco, Sam leaps into a television reporter named Dylan Powell who must prevent a psychic who is helping the police from becoming the next victim. But when she discovers who Sam really is, they fall for each other and the ordeal becomes very personal.

Note: The song that was played when the episode originally aired, I Want to Know What Love Is, topped the Billboard Hot 100 during early February 1985, when it was set.

67
14
"The Last Gunfighter"
Story by: Sam Rolfe
Teleplay by: Sam Rolfe & Chris Ruppenthal
Joe Napolitano
Coffin, Arizona
November 28, 1957
January 29, 1992
67318 (4x14)
Sam is a retired gunfighter named Tyler Means (played by Paul Bordman) who's living with his family in an Old West town that is used for tourism and films. He must face his former partner, who wants to kill Sam because his host stole his heroic antics for his own, while also preventing his host's grandson from ruining his life after his image of his grandfather is ruined.
68
15
"A Song For The Soul"
Deborah Pratt
Michael Watkins
Chicago, Illinois
April 7, 1963
February 26, 1992
67304 (4x15)
Sam leaps into Cheree, a member of an all-girl teenage R&B trio, and must prevent one of the singers from signing a cheap contract and ruining their lives.
69
16
"Ghost Ship"
Donald P. Bellisario
Anita W. Addison & Paris Qualles
Bermuda Triangle
August 13, 1956
March 4, 1992
67307 (4x16)
Sam leaps into Eddie Brackett (played by Mark McPherson), co-pilot of an air taxi that is transporting two young newlyweds, one of whom is very sick with appendicitis. But that is the least of his worries when the plane flies into the Bermuda Triangle and he loses contact with Al and Quantum Leap.
70
17
"Roberto!!"
Chris Ruppenthal
Scott Bakula
Destiny, New Mexico
January 27, 1982
March 11, 1992
67326 (4x17)
Sam is Roberto Gutierrez (played by Andrew Roa), a Geraldo Rivera-inspired talk-show host who works with his co-worker to unmask a local fertilizer and pesticide plant that is researching and producing chemical weapons before they're silenced.
71
18
"It's A Wonderful Leap"
Story by: Danielle Alexandra & Paul Brown
Teleplay by: Paul Brown
Paul Brown
New York City, NY
May 10, 1958
April 1, 1992
67324 (4x18)
Sam is a New York City taxicab driver named Max Greenman (played by Ross Partridge) who's trying to earn enough money to get his father his own medallion. Along the way, he meets a woman who claims to be an angel and can see Al, pretending to believe him to be the devil.
72
19
"Moments To Live"
Tommy Thompson
Joe Napolitano
Los Angeles, CA
May 4, 1985
April 8, 1992
67325 (4x19)
Sam leaps into Kyle Hart, a soap opera actor who is kidnapped by an obsessed fan who wants him to father her baby and, in the original history, his host ended up wandering the countryside with a gunshot wound to the head that rendered him a total amnesiac.
73
20
"The Curse of Ptah-Hotep"
Chris Ruppenthal
Joe Napolitano
Saqqara, Egypt
March 2, 1957
April 22, 1992
67328 (4x20)
Sam leaps into Dr. Dale Conway (played by Rodger LaRue), a member of an archeology team that has just unearthed the tomb of the Pharaoh Ptah-Hotep, but the find carries a terrible curse.
74
21
"Stand Up"
Bill Richmond & Deborah Pratt
Michael Zinberg
Glendale, Arizona
April 30, 1959
May 13, 1992
67315 (4x21)
Sam leaps into a man named Davey Parker (played by Rafe Battiste) who's part of a trio comedy act, with his male and female partner so in love with each other that they cannot face it. Sam must get the couple to see that they love each other, and prevent one of the comedians from being killed by the Mafia.

Note:Bob Saget guest stars as one of Sam's comic partners. Amy Yasbeck also guest stars.

75
22
"A Leap For Lisa"
Donald P. Belllisario
James Whitmore, Jr.
San Diego Naval Air Station, CA
June 25, 1957
May 20, 1992
67329 (4x22)
Sam leaps into a younger Al "Bingo" Calavicci (played by Jamie Walters) who is on trial for the murder and rape of his commander's wife. But when Sam's actions unintentionally prevent the witness whose testimony cleared Al in the real history from testifying before she dies, Sam discovers that Project Quantum Leap now exists in an alternate future in which Al was executed in the gas chamber. Roddy McDowall guest stars as the alternate timeline's holographic project Observer.