Quantum Leap: Season 3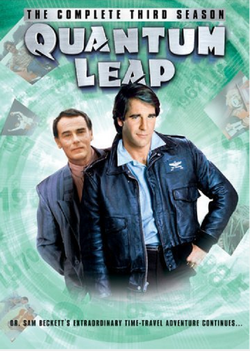 Quantum Leap Season 3 DVD cover
Quantum Leap: Season 3Edit
This page lists all of the episodes which were aired in Season 3 of the NBC-TV series Quantum Leap. A total of twenty-two were aired from the series opeinig episode "The Leap Home: Part I", which was part of a two episode story, which premiered on September 26, 1990, to the season finale episode, "Shock Theater" which aired on May 22, 1991.
Season 3 (1990-1991)Edit
Season 3 episodes
Image
# in Series
# in Season
Title
Written by
Directed by
Leap location/date
Original air date
Prod.code
32
1
"The Leap Home, Part I"
Donald P. Bellisario
Joe Napolitano
Elk Ridge, Indiana
November 26, 1969
September 25, 1990
66401 (3x1)
Sam leaps into himself as a 16-year-old boy and Al tells him he is there to win a basketball game that was a turning point in many people's lives, but Sam wants to take the opportunity to prevent his sister from marrying an abusive alcoholic, his father from dying from a heart attack, and his brother from getting killed in Vietnam.

Note: Scott Bakula plays a dual role in this episode, also appearing as Sam's father, John Beckett.

33
2
"The Leap Home, Part II (Vietnam)"
Donald P. Bellisario
Michael Zinberg
Vietnam, April 7, 1970
October 5, 1990
66402 (3x2)
Sam leaps into Herbert "Magic" Williams (Christopher Kirby), a soldier in his brother's platoon in the Vietnam War, where he is given the chance to keep his brother from dying, but at a terrible price. Note: This is Sam's first leap outside of the United States. Tia Carrere and Patrick Warburton also guest star.
34
3
"Leap of Faith"
Story by: Nick Harding, Karen Hall and Tommy Thompson
Teleplay by: Tommy Thompson
James Whitmore, Jr.
Philadelphia, PA
August 19, 1963
October 12, 1990
66408 (3x3)
Sam leaps into Father Francis "Frank" Pistano (played by Bud Sabatino), a priest who must help prevent a fellow man of the cloth from losing his faith and self-control.
35
4
"One Strobe Over The Line
Chris Ruppenthal
Michael Zinberg
New York City, NY
June 15, 1965
October 19, 1990
66409 (3x4)
As Karl Granson, a well-known fashion photographer, Sam must protect a female fashion model named Edie Landsdale (Marjorie Monaghan) from overdosing on illicit drugs.

Note: Susan Anton guest stars as Helen Le Baron.

36
5
"The Boogieman"
Chris Ruppenthal
Joe Napolitano
Coventry, Maine
October 31, 1964
October 26, 1990
66410 (3x5)
Sam leaps into horror novelist Joshua Rey (Chris Ruppenthal) who is surrounded by death and mystery. Al and Ziggy don't seem to be able to predict what will happen and Sam is running out of suspects.

Notes: One of the guest characters is an adolescent "Stevie" King. Joshua Rey (Sam's mirror image in this episode) is played by episode writer Chris Ruppenthal. Many fans claim weird real-life events have been associated with this episode. Some claim that it has the highest incidence of VCR / cable / local station failure than any other episode aired, although this appears to be anecdotal. There have been numerous reports of VCRs cutting out during the taping of this episode, local station and cable companies dropping their signal. Accordingly, superstitious fans often eschew spelling out the full title referring to it either as "The Boogiem*n" or "The Halloween Episode" (episode #3.5).

37
6
"Miss Deep South"
Christopher T. Welch
Tommy Thompson
Louisiana
June 7, 1958
November 2, 1990
66406 (1x6)
Sam leaps into Darlene Monty (Theresa Ring), a beauty pageant contestant who must protect a naive fellow contestant from ruining her life by posing for nude photographs, and in the process must ensure that his host places at least third in the pageant so that she can win a scholarship and become a doctor. (With Sam's help, she actually wins the pageant before he leaps out.)
38
7
"Black On White On Fire"
Deborah Pratt
Joe Napolitano
Watts, Los Angeles, CA
August 11, 1965
November 9, 1990
66403 (3x7)
Sam leaps into an African-American named Ray Harper (Garon Grigsby), a medical student dating a white woman (Corie Henninger) on the day of the Watts riots. He must prevent his host's girlfriend from being killed, while persuading her that they need to stay in Watts.

Notes: Marc Alaimo and C.C.H. Pounder also guest star. Pounder later became Scott Bakula's co-star on NCIS: New Orleans.

39
8
"The Great Spontini"
Cristy Dawson & Beverly Bridges
James Whitmore, Jr.
Oakland, CA
May 9, 1974
November 16, 1990
66412 (3x8)
Sam leaps into a traveling amateur magician named Harry Spontini (Dan Birch), he must perform some real magic to prevent losing custody of his young daughter to his ex-wife, as well as save the girl from performing a dangerous trick that will go wrong.
40
9
"Rebel Without A Clue"
Story by: Nick Harding & Paul Brown
Teleplay by:Randy Hollad & Paul Brown
James Whitmore, Jr.
Near Big Sur, California
September 1, 1958
November 30, 1990
66407 (3x9)

Sam leaps into Shane "Funny Bone" Thomas (Kristopher Logan), a member of a biker gang where he meets a truck stop restaurant owner who lost his son to the war and an idealistic young woman who is going to die unless she gives up her reckless dream of living the hard life of Jack Kerouac.

Note: Diedrich Bader (later of The Drew Carey Show) and Mark Boone Junior also guest star.

41
10
"A Little Miracle"
Story by: Sandy Fries
Teleplay by: Sandy Fries & Robert A. Wolterstorff
Michael Watkins
New York City, NY
December 24, 1962
December 21, 1990
66414 (3x10)
Sam leaps into Reginald Pearson (Milan Nicksic), a personal valet to a Scrooge-like industrialist who is bent on demolishing a Salvation Army mission, forcing Sam and Al to 'Scrooge' him by showing him his past, present and future in an attempt to change his mind.

Note: Charles Rocket guest stars.

42
11
"Runaway"
Paul Brown
Michael Katleman
Carbon County, Wyoming
July 4, 1964
January 4, 1991
66405 (3x11)
Sam leaps into Butchie Rickett (Buff Borin), a 13-year-old boy who is on a family roadtrip from which the mother will soon disappear, while also dealing with the bullying of his host's older sister.

Note: Sherman Howard also guest stars as Hank Rickett.

43
12
"8 1/2 Months"
Deborah Pratt
James Whitmore, Jr.
Claremore, Oklahoma
November 15, 1955
March 6, 1991
66421 (3x12)
Sam leaps into Billie Jean Crockett (played by Priscilla Weems), a pregnant teenager who needs to keep her baby and obtain the support of her father, a fact made all the more confusing by the fact that Sam seems to be pregnant even though he lacks the 'equipment' to carry a child.

Note: Parley Baer also guest stars.

44
13
"Future Boy"
Tommy Thompson
Michael Switzer
St. Louis, Missouri
October 6, 1957
March 13, 1991
66417 (3x13)
Sam leaps into "Kenny Sharp" (a.k.a. Future Boy and played by Matt Marfoglia) a teen actor on a children's sci-fi show and must work quickly to keep his eccentric co-star, "Captain Galaxy" (Richard Herd) from being killed or committed to a mental institution because of his "wild" theories about traveling in time. In the process, Sam learns, much to his surprise, that the actor has independently come up with Sam's own 'string theory' of quantum leaping.
45
14
"Private Dancer"
Paul Brown
Debbie Allen
New York City, NY
October 6, 1979
March 20, 1991
66416 (3x14)
Sam is Rod McCarty (a.k.a. "Rod the Bod" and played by Chris Solari), a Chippendales dancer who must help a deaf woman find success as a professional dancer, before she goes down a road of prostitution and dies of AIDS.
46
15
"Piano Man"'
Ed Scharlach
James Whitmore, Jr.
Tularosa, New Mexico
November 10, 1985
March 27, 1991
66419 (3x15)
Sam leaps into Joey DeNardo (a.k.a. Chuck Danner and played by Sam Clay), a lounge singer in the witness protection program who must keep himself and his accident-prone girlfriend from being killed for the murder he witnessed three years ago.
47
16
"Southern Comforts"
Tommy Thompson
Chris Ruppenthal
New Orleans, Louisiana
August 4, 1961
April 3, 1991
64422 (3x16)
Sam leaps into Gilbert LaBonte (played by Richard White), the owner of a New Orleans brothel to prevent one of his girls from disappearing after a confrontation with her abusive husband. 

Note: Diane Delano also guest stars.

48
17
"Glitter Rock"
Chris Ruppenthal
Andy Cadiff
Detroit, Michigan
April 12, 1974
April 10, 1991
64404 (3x18)
Sam is Geoffrey "Tonic" Mole (Bruce Michael Paine), the lead singer of a KISS-inspired rock band who in the original history was murdered by an unknown stalker. Sam must find out whether it was the manager (Peter Noone), a band member, a random fan, or his host's estranged son who did it, and stop them before the deed can take place.
49
18
"A Hunting We Will Go"
Beverly Bridges
Andy Cadiff
Arkansas
June 18, 1976
April 18, 1991
66424 (3x18)
Sam leaps into Gordon O'Reilly (Ken Kells), a bounty hunter handcuffed to a compulsively lying woman (Jane Sibbett) who is suspected of embezzling a large sum of money, and must decide whether his mission is to help the woman

escape or bring her to justice.

50
19
"Last Dance Before An Execution"
Story by: Bill Bigelow, Donald Bellisario & Deborah Pratt
Teleplay by: Deborah Pratt</sub<
Michael Watkins
Tallahassee, Florida
May 12, 1971
May 1, 1991
66421 (3x19)
Sam leaps into Jesus Ortega (Stephen Domingas), a man about to be executed by the electric chair, until he is suddenly given a temporary 48-hour reprieve to (apparently) try to prove his innocence.
51
20
"Heart of A Champion"'
Tommy Thompson
Joe Napolitano
Atlanta, Georgia
July 23, 1955
May 8, 1991
66425 (3x20)
Sam leaps into Terry Sammis (a.k.a. "Nikolai Russkie" and played by Jeff Hochendoner), a professional wrestler who must prevent his brother from dying of a heart attack in the championship match.

Note: Terry Funk also guest stars.

52
21
"Nuclear Family"
Paul Brown
James Whitmore, Jr.
Homestead, Florida
October 26, 1962
May 15, 1991
66426 (3x21)
Sam leaps into Eddie Elroy (Patrick M. Bruneau), a college student helping his brother sell nuclear bomb shelters during the Cuban Missile Crisis, and must prevent their neighbor from being shot during a false air raid.

Note: Kurt Fuller also guest stars.

53
22
"Shock Theater"
Deborah Pratt
Joe Napolitano
Havenwell, Pennsylvania
October 3, 1954
May 22, 1991
66428 (3x22)
Sam leaps into Sam Beiderman, a depressed mental patient who receives shock therapy as soon as Sam leaps in. This causes Sam's personality to become displaced, resulting in his assuming the identities of people he has leaped into before. It's up to Al to complete Sam's mission by helping a mentally challenged young man learn how to read, which he is able to do when he discovers that he and Sam can be seen by mentally ill people. He must also find a way to restore Sam's personality so he can leap, or else risk losing contact with him forever.

Note: This is the only episode where it is Al, not Sam, who does a musical (or rather a rap) number.