Quantum Leap: Season 2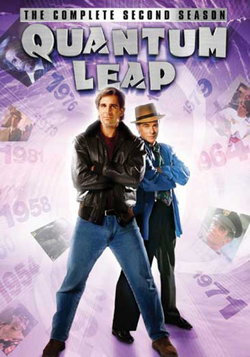 Quantum Leap Season 2 DVD cover.
Quantum Leap: Season 2Edit
This page lists all of the episodes which aired in Season 2 of the NBC-TV series Quantum Leap. A total of twenty two episodes aired, beginning with the season opening episode "Honeymoon Express", which aired on May 26, 1987.
Season 2 (1989-90)Edit
Season 2 episodes
Image
No. in series
No. in season
Title
Directed by
Written by
Leap location / Date
Original air date
Prod. code
10
1
"Honeymoon Express"
Aaron Lipstadt
Donald P. Bellisario
Ohio, U.S., May 26, 1957 /
New York City, NY, U.S., April 27, 1960
September 20, 1989
65411 (2x01)

As Tom McBride, a New York City cop on his honeymoon, Sam must save himself from a jealous, and sociopath, ex-husband. To make matters worse, the Project's funding will be cut off, stranding Sam alone in the past, unless he can prevent the U2 flight from being shot down over Russia.

Guest stars: Alice Adair, Mathieu Carriere, Hank Rolike, Warren Frost, James Mastrantanio 

11
2
"Disco Inferno"
Gilbert M. Shilton
Paul Brown
Burbank,_California, U.S.
April 1, 1976
September 27, 1989
65401 (2x02)
As a stuntman, Sam is to save the life of his younger brother, while trying to convince the pair's obsessive father to let the younger son go his own way, even if it means going into country-western music, rather than following the family tradition of stunt work.

Guest stars: Michael Greene, Kris Kamm, Kelli Williams, Peter Onorato, Arnetia Walker

12
3
"The Americanization of Machiko"
Gilbert M. Shilton
Charlie Coffey
Oak Creek, Ohio
August 4, 1953
October 11, 1989
65406 (2x03)
As a sailor returning from Japan, Sam brings a foreign wife to a small town. He then has to fight against the prejudice of both a scheming ex- girlfriend, as well as his mother, in order to gain acceptance of his new bride.

Guest stars: Leila Lee Olson, K Callan, Wayne Tippit, Elena Stiteler, Patrick Massett

13
4
"What Price Gloria?"
Alan J. Levi
Deborah Pratt
Detroit, Michigan, U.S.
October 16, 1961
October 25, 1989
65017 (2x04)
Sam is shocked when he learns he's leaped into a woman, Samantha Stormer. As a gorgeous secretary for an automobile company, Sam has to cope with sexual harassment by the boss, a suicide attempt by a roommate, and the effect his looks have on Al's lecherous tendencies.

Guest stars: John Calvin, Jean Sagal

14
5
"Blind Faith"
David G. Phinney
Scott Shepard
New York City, NY, U.S.
February 6, 1964
November 1, 1989
65402 (2x05)
Although the concert pianist he leaps into is blind, a fact, which bothers his girlfriend's disapproving mother, Sam can still see. At least until an exploding flashbulb blinds him at the crucial moment: when he must rescue his girlfriend from a serial killer.

Guest stars: Cynthia Bain, Jennifer Rhodes, Kevin Skousen

15
6
"Good Morning, Peoria"
Michael Zinberg
Chris Ruppenthal
Peoria, Illinois, U.S.
September 9, 1959
November 8, 1989
65408 (2x06)
Rock 'n' roll is about to become big, but not in Peoria. That is, unless Sam, as DJ Howlin' Chick Howell, can manage to keep the radio station where he's employed from being shut down by overly conservative town elders.

Guest stars: Patricia Richardson (as Rachel Porter), Richard McKenzie,Todd Merrill, Chubby Checker as Himself

16
7
"Thou Shalt Not..."
Randy Roberts
Tammy Ader
Los Angeles, CA
February 2, 1974
November 15, 1989
65409 (2x07)
Sam's task as a rabbi is to keep his sister-in-law from falling for a sleazy author and ruining her life. In the process he also helps the family recover from the year-old death of their son.

Guest stars: James Sutorius, Terri Hanauer, Lindsay Fisher, Russ Tamblyn, Jill Jacobson

17
8
"Jimmy"
James Whitmore, Jr.
Paul M. Belous & Robert Wolterstorff
Oakland, CA, U.S.
October 14, 1964
November 22, 1989
65407 (2x08)
Since mainstreaming the mentally retarded is not yet a popular concept, Sam must help Jimmy LaMotta, the "slow" young man he's leaped into, get a job and gain his coworkers' acceptance, to prevent his brother from returning Jimmy to the institution.

Guest stars: John D'Aquino as Frank LaMotta, Laura Harrington as Connie LaMotta, Michael Allredge (Charlie Samuels), Ryan McWhorter (Corey LaMotta), Michael Madsen

18
9
"So Help Me God"
Andy Cadiff
Deborah Pratt
Louisiana
July 29, 1957
November 29, 1989
65410 (2x09)
Though he can't remember much more than habeas corpus, Sam finds himself the defense attorney for a young black woman accused of murdering the son of the most powerful man in a small Louisiana town.

Guest stars: Byrne Piven as Captain Cotter, Tyra Ferrell as Delilah "Lila" Berry, Kathleen Noone as Sadie Cotter, Ketty Lester as Myrtle, John Apicella as Sheriff Dixon, Stacy Ray as Sugee Dancey, John Shepard as Bo Parsons, and William Schallert as Judge Haller

19
10
"Catch A Falling Star"
Donald Bellisario
Paul Brown
Syracuse, New York, U.S.
May 21, 1979
December 6, 1989
65413 (2x10)
Sam leaps into Ray Hutton, the understudy for the role of Cervantes just seconds before curtain time. His mission: prevent the drunken star from falling and seriously injuring himself during a benefit performance of "Man of La Mancha". Sam isn't helped by the presence of his former piano teacher, on whom he once had a crush, and who now appears to have caught the star's eye as well.

Guest stars: John Cullum as John O'Malley, Michele Pawk Nicole, Janine Turner [ Michelle ], Ernie Sabella [ Manny ], Paul Sand [ Charlie ], Myra Turley [ Delores ]

20
11
"A Portrait For Troian"
Story by: John Hill & Scott Shepard
Teleplay by: Donald Bellisario & Scott Shepherd
Michael Zinberg
Near Los Angeles, California
February 7, 1971
December 13, 1989
65409 (2x11)
Sam leaps into a renowned parapsychologist where he must prevent a young widow from joining her husband at the bottom of a lake, while proving that she's not crazy, despite her claims of hearing her dead husband calling to her.

Guest stars: Deborah Pratt as Troian Giovanni Claridge, Robert Torto as Jimmy Giovanni, Carolyn Seymour s Priscilla Stolz, Bett Ray as Mrs. Little

21
12
"Animal Frat"
Gilbert M. Shilton
Chris Ruppenthal
Meeks College in California
October 19, 1967
January 3, 1990
65417 (2x12)
Trapped in the body of Knut Wileton, better known as "Wild Thing", the typical frat jock, Sam must win the confidence of an attractive campus radical before she bombs the college's chemistry building as a protest against the war in Vietnam.
22
13
"Another Mother"
Joseph L. Scanlan
Deborah Pratt
Scottsdale, AZ
September 30, 1981
January 10, 1990
65415 (2x13)
As a divorced mother of three, Sam's job of preventing his teenage son from running away, never to be seen again, is made more interesting by the fact that his youngest daughter can see both him and Al.
23
14
"All Americans"
Paul Brown & Donald P. Bellisario
John Cullum
Woodland Hills, CA, U.S.
November 6, 1962
January 17, 1990
65418 (2x14)
Keeping his best friend from throwing the high school championship football game, costing both of them their scholarship offers, Sam must also get their families to consolidate.
24
15
"Her Charm"

Donald Bellisario & Deborah Pratt (teleplay/story)




Paul M. Belous & Robert Wolterstorff (story)

Christopher T. Welch
Boston, MA
September 26, 1973
February 7, 1990
65416 (2x15)
Protecting a female member of the witness protection program from a mafia hitman proves difficult for Sam, since the FBI appears to have an informant confounding his attempts to hide her.
25
16
"Freedom"
Alan J. Levi
Chris Ruppenthal
Nevada
November 22, 1970
February 14, 1990
65423 (2x16)
Rather than saving his grandfather's life, Sam has to escape from jail and elude the police long enough to get them both to the reservation, where the old man can die in peace, at home.
26
17
"Good Night, Dear Heart"
Christopher T. Welch
Paul Brown
Riven Rock, MA
November 9, 1957
March 7, 1990
65424 (2x17)
Rather than saving the damsel of the episode, who supposedly committed suicide, Sam is the coroner trying to prove that she was murdered, and find out by whom.

Guest stars: William Cain as Roger Truesdale, Marcia Cross as Stephanie Heywood, Robert Duncan McNeill as Greg Truesdale, Deborah Strang as Aggie, & W.K. Stratton as Sheriff Lyle Roundtree

27
18
"Pool Hall Blues"
Joe Napolitano
Randy Holland
Chicago, Illinois
September 4, 1954
March 14, 1990
65422 (2x18)
In order to help his granddaughter save a small bar from the slimy loan shark holding a note on the place, Sam has to play pool like a pro...with a little help from Al and Ziggy.

Guest stars: Shari Headley as Violet Walters, Theodore Wilson as Jimmy Grady, & Ken Foree as The Brush

28
19
"Leaping In Without A Net"
Christopher T. Welch
Tommy Thompson
Near Denver, Colorado
November 18, 1958
March 28, 1990
65421 (2x19)
Sam remembers he's afraid of heights when he leaps into a trapeze artist, whose sister wants him to catch her as she does a triple without a net. Dad is less than pleased, since his wife died a few years earlier while attempting the same stunt.
29
20
"Maybe Baby"
Julie Brown & Paul Brown
Michael Zinberg 
Texas, March 11, 1963
April 4, 1990
65428 (2x20)
Babysitting a kidnapped tot and a flaky, compulsively lying stripper keeps Sam busy as they cross Texas, on the run from the legal father and a squad of cops.
30
21
"Sea Bride"
Joe Napolitano
Deborah Pratt
RMS Queen Mary in the

Upper New York Bay
June 3, 1954

May 2, 1990
65430 (2x21)
Aboard an ocean liner, Sam must stop the marriage of a young man's ex- wife to a mobster. In the process, he finds himself in one heck of a mess in the ship's garbage compartment.
31
22
"M.I.A."
Micheael Zinberg
Donald Bellisario
San Diego, California
April 1, 1969
May 9, 1990
65412 (2x22)
When Sam leaps into the life of an undercover cop, Al explains that his mission is to convince a navy nurse that her MIA husband is still alive, and to prevent her from marrying a lawyer she meets on the day Sam leaps in. But a series of coincidences causes Sam to wonder about the true nature of his mission.

Guest stars: Susan Diol as Beth Calavicci, Jason Beghe as Det. Sgt. Roger Skaggs, Norman Large as Dirk Simon, Dan Ziskie as Sergeant Riley